How it Works — the Dictation / Transcription Process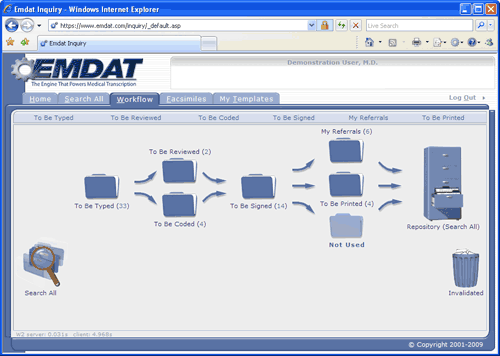 InQuiry application sample workflow diagram
First, dictation is sent securely to R+B Sten-Tel servers using any Internet connection. If digital recorders are used, clinicians simply dock the digital recorder and the computer automatically uploads the dictations. To use telephone dictation, clinicians simply call the system and dictate. Touch-tone telephone buttons can easily be programmed to perform desired functions per a setup that's most familiar or desirable to physicians. Along with transferring dictations, R+B Sten-Tel safely, securely, and automatically transfers ADT (Admission, Discharge, Transfer) information and/or Patient Schedules to populate transcriptions, thereby eliminating demographic errors that can be common in medical transcription.
Once the dictation is transcribed, transcriptions are available around the clock in a totally secure (128-bit encryption), searchable database, accessible for as long as you use our service. We keep all your transcriptions at your fingertips.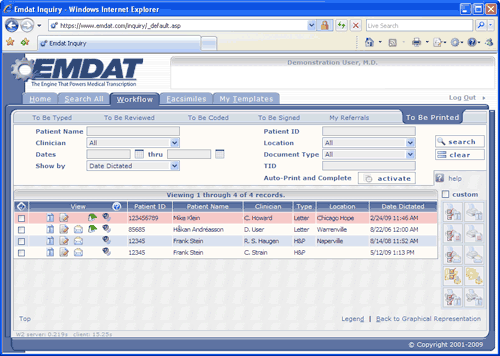 InQuiry application sample folder view
Medical Facilities use InQuiry®, a HIPAA-compliant, web-based application to manage their day-to-day transcription workflow. R+B Sten-Tel provides InQuiry to our customers free as a value-add to our existing service. Users can view, edit, electronically sign, and automatically route transcriptions both within the InQuiry application or via auto-fax, as well as perform many more actions. Once transcriptions are complete, R+B Sten-Tel can automatically populate your clinical repository, HIS or EMR system at NO CHARGE.
Powered by